We once again have teamed up with EVOKE.ie, and chef Lily Higgins, to bring you two absolutely mouth-watering dinner recipes. Easy to make and full of healthy meats and dairy products, these are recipes you will whip out again and again and again.
Accompanied by nutritionist Orla Walsh, Lily has created recipes with delicious Irish pork and beef and the highest quality Irish cheese.
Pork Chops with Chimichurri, New Potatoes and Broccoli
Serves 4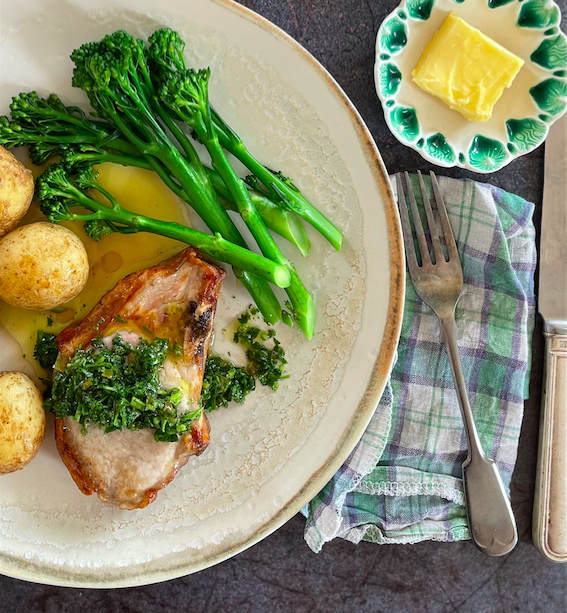 1 large bunch parsley, very finely chopped
1tsp dried oregano
2-4 cloves garlic, crushed
1tsp jalapenos or fresh chilli, finely diced
2tbsp red wine vinegar
1tbsp lemon juice
250ml olive oil
½tsp sea salt
½tsp black pepper
4 pork chops
12-16 new potatoes, scrubbed
Broccoli spears
Mix all of the sauce ingredients together. Taste for seasoning and set aside so the
flavours can develop.
Simmer the scrubbed new potatoes in boiling salted water till just cooked. Drain well
then place a clean tea towel over the top of the potatoes and return to the heat for 2
minutes to steam. Set aside.
Season the pork chops on each side. Cook under a hot grill for 5-7 minutes each side until cooked through.
Blanch the broccoli spears in boiling water then drain well. Heat 1 tbsp olive oil in a pan over a high heat. Add the broccoli spears and leave to sizzle for a few minutes till bright green and charred in places.
Serve the potatoes and broccoli with the chimichurri poured over each chop.
Rigatoni Pasta Bake with Beef Mince, Coolea cheese, Toonsbridge Mozzarella –
carrot, fennel and red cabbage slaw
Serves 6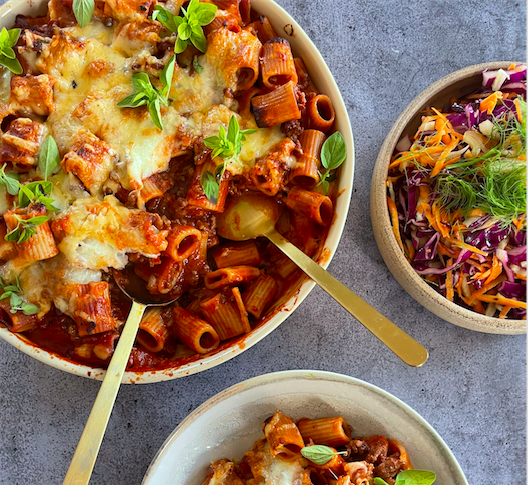 For the slaw:
50ml apple cider vinegar
100ml light olive oil
1 tsp honey
1 tsp dijon mustard
Pinch sea salt
2 carrots, peeled and grated
1 fennel, thinly sliced
¼ red cabbage, finely sliced
For the pasta:
1 onion, diced
4 cloves garlic, crushed
2 tbsp olive oil
1 lb minced beef
250g Toonsbridge mozzarella cheese, torn into bite size pieces
50g grated Coolea cheese
Salt and black pepper
1 tbsp chopped herbs (oregano or basil)
2 x 680g bottles of tomato passata
1 tsp sugar
1 lb dried rigatoni pasta
Fresh basil or oregano
Whisk all of the slaw dressing ingredients together. Fold in the carrot, fennel and
cabbage. Taste for seasoning. Set aside.
Preheat the oven to 180C.
Heat 2 tbsp olive oil in a large pan, add the onion and saute till soft. Add the garlic and
stir for a minute till fragrant. Add the beef mince, season with salt and pepper. Cook
over a high heat till the beef is browned well, about 8 minutes. Remove the pan from the heat.
Cook the pasta in a pan of boiling salted water till just al dente. Drain in a colander. Add the pasta to the pot of beef and stir to combine. Add the herbs, passata and 1 tsp sugar.
Stir well to combine. Fold in half of the mozzarella.
Transfer the pasta to a large 9×13" oven-safe dish. Sprinkle the top with the remaining cheeses. Bake until golden and bubbling for 30 minutes.
Leave to cool for 5-10 minutes then top with fresh herbs before serving.
Check out Evoke.ie for more information.